The Apocalypse cometh?
We've had a solid two-day period without the scorching heat, and just as we were beginning to hope that we might finally breathe, everything's back to red again.

Meteoalarm
This time the heatwave will, thankfully, last shorter than the hellish Lucifer heatwave that the entire country went through last week, but still, the expected temperature for today will be 34 to 39 degrees, followed by a sudden change on Friday – as was the case on Sunday – with rain and thunderstorms.
We've already had the sea temperature at an all-time high, 30 degrees near Mljet. Thirty! It's higher than the air temperature in some countries.
Talking about breaking records, and this summer quite a few have been broken, Knin has had the longest consecutive period of temperatures over 40°C in its history, and Split's 42.3°C was the highest in the city's history, and the third highest in the country.
After the temperature drop on Sunday evening, Zagreb was the coldest city in the region, and a violent storm knocked down trees in Istria. Oh, and let's not forget that it snowed. In July.
According to DHMZ, the temperatures around the country were above the 1961-1990 average, with average monthly temperatures being 1.5-3.7 degrees higher than normal.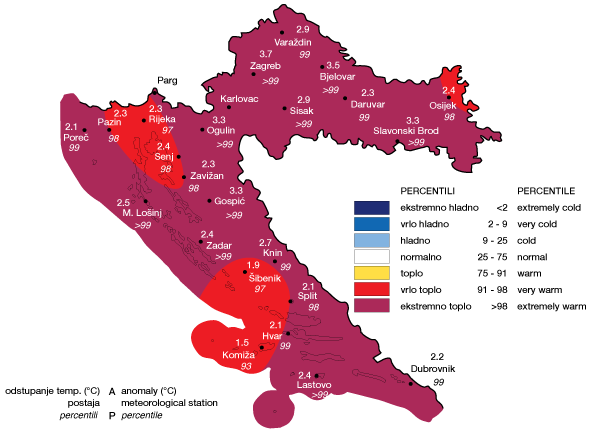 DHMZ
In July, the entire country was either very warm (just two parts) or extremely warm. There was also less precipitation – up to 132% less in Zavižan, for example.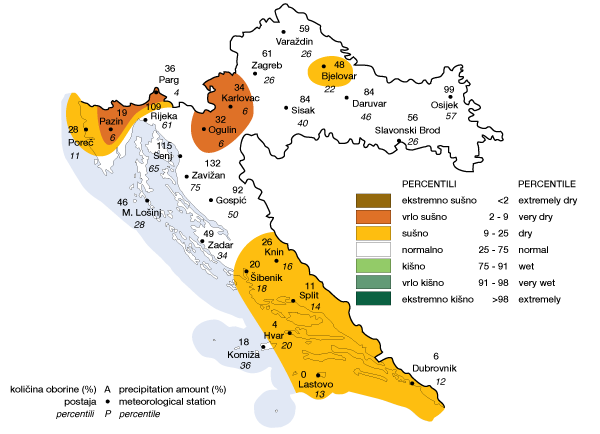 DHMZ
We've had monster fires – the horrible blaze in Split, with firefighters from around the country flocking to help their exhausted colleagues in Split, who've put in a superhuman effort into their work, despite the many, many obstacles they've faced, such as some of their equipment being 40 years old. Well done, boys and girls, again.
Just as we thought the brave firemen could catch some rest, new fires have started breaking out near Solin, on Brač, Hvar, Vela Luka, Čiovo, Imotski… the list goes on and on.
Finally, to get that off our natural disasters list, a series of earthquakes hit Rijeka and Kvarner in the past two days, there were at least four throughout the night, causing understandable panic among Rijeka residents, some of whom spent the night in their cars because of the constant rumbles.
It seems that we've seen the sixth seal of the Apocalypse and heard the first trumpet, have you seen any locust around lately?
Subscribe to our newsletter
the fields marked with
*
are required