Comfy chairs and stable Wi-Fi galore.
Hey, fellow freelancers, are you bored with staying in pyjamas all day and working from your bed? Of course you're not, that's why you became a freelancer in the first place, but still, there are probably times when you want a change of style and ambiance (and possibly, outfit), and you're thinking of packing your laptop and heading to a comfy café where you can work.
The essentials we need are good wifi, comfy chairs, the people around you not being too loud, and, if you're anything like me, a snack being available to you when you get tired after an hour of working.
You might think that Zagreb has plenty cafes that fit the description, but, I have to admit, there aren't that many. Some of my favourites, like Velvet, Kino Europa and U dvorištu are great, but the chairs aren't that comfy if you plan on staying there for more than two hours. I also love Swanky, for example, but it tends to get loud, so I can't focus.
So, here are my favourite cafes you can work in.
1) Booksa, Martićeva 14d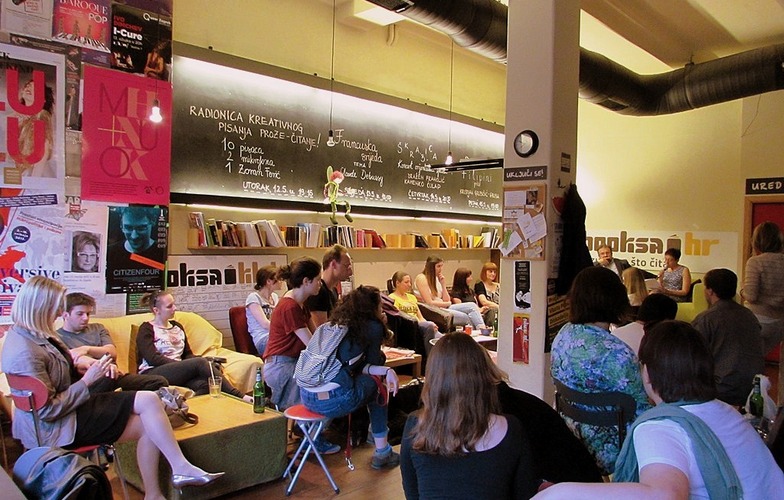 Booksa.hr
A big portion of my thesis was written in this charming book club in Martićeva. The atmosphere is relaxed, but you still feel like you should be working, and you're surrounded by books, so you might trick your mind into thinking it actually enjoys it.
There are occasionally snacks, but, even if there aren't, there's a Mlinar bakery 20 m away.
Keep in mind that Booksa is a book club, so you need to join it, which costs HRK 10 per year.
Find out more here.
2) Kim's Coffee, Petrova 21

Kim's Coffe, Facebook
Kim's Coffee is the epitome of a cosy workplace – huge chairs that you can sit back in, a fireplace, fairy lights, delicious sandwiches, cakes, smoothies, and great coffee.
Find out more here.
3) KIC klub, Prerardovićeva 5

KIC, Facebook
Located in the centre of the city, but still far away from the buzz so you can focus on your work, KIC is a great choice if you want to stay close to everything, but still have some peace and quiet before you head over to a noisier bar to relax with some friends. Another in the series of cafes with books on the shelves, so you'll really feel like you're in an office.
No snacks, but there are numerous great restaurants nearby in Teslina, such as Bistroteka or Good Food.
Find out more here.
4) Quahwa, Nikole Tesle 9/1

Quahwa, Facebook
I'm currently writing this from Quahwa, with one of the best cups of coffee I've ever had, and to the sounds of David Bowie (and I didn't even ask for it), so I'll definitely be back to this little piece of heaven. The terrace is closed off, so you don't hear the noise made by the people and the traffic in an otherwise noisy Teslina Street.
Same as KIC, there are no snacks, but Teslina is a street with some great food options.
Find out more here.
5) Hub Cooltura Pub, Rapska 20

Hub Cooltura Pub, Facebook
I know what you're thinking, "Why the hell is she telling us to go work in a pub?" Well, apart from it being the preferred, nay, obligatory, type of office when you write for Total Croatia News, this is actually a very cool and calm place, with a fantastic, retro interior and comfy chairs. There's even a separate floor if you want total peace and quiet.
No snacks, but Green Gold is pretty close, so you can go have a tasty lunch at Sofra, for example.
Find out more here.
There you go, fellow freelancers, may your chairs be comfy, your coffee warm, and your Wi-Fi stable!
Subscribe to our newsletter
the fields marked with
*
are required